Boozy Bananas Foster Mini Cupcakes
Cupcakes
Ingredients
1.5 cups ripe banana

1 cups sugar
1 cup flour
1 teaspoon cinnamon
3/4 cup vegetable oil
1/2 teaspoon salt
1 teaspoon baking soda
2 eggs
Instructions
Measure and combine flour, baking soda, salt and cinnamon. In a separate bowl, combine sugar and banana; mash until smooth. Add eggs and vegetable oil to banana mixture then mix until smooth. Stir flour mixture into egg and banana mixture until combined. Line mini muffin pan with paper baking cups and fill with batter until ¾ full. Bake at 300 degrees for 12-14 minutes. Dip the tops of baked cup cakes into Rum Syrup (recipe below). Rum can be drizzled on top also for an extra kick. Top the cupcake with Fosters Butter Cream Icing. Cupcakes can be finished with chopped banana chips or black & gold Who Dat sprinkles!
Rum Syrup
Ingredients
1/2 cup dark brown sugar

1/2 cup dark rum

1/4 cup banana liqueur
Instructions
Combine brown sugar, rum and banana liqueur in a small sauce pot. Over medium-high heat, cook until alcohol has cooked out; about 5 minutes. Syrup will ignite, so be careful to keep arms distance from pot.
Fosters Butter Cream Icing
Ingredients
2.5 cups powdered sugar

1 cup room temperature butter

1/2 cup rum syrup
Instructions
Using an electric mixer with a whisk attachment, combine room temperate butter, powdered sugar and remaining rum syrup. Whip mixture until light and airy.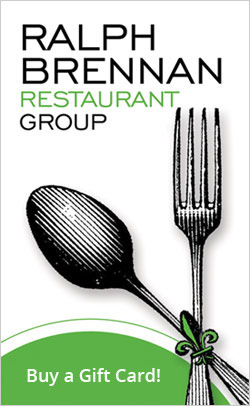 Purchase Giftcards
Cooking Measurements
1 cup = 250 ml = 16 Tablespoons
1/2 cup = 125 ml = 8 Tablespoons
1/3 cup = 83 ml = 5.3 Tablespoons
1/4 cup = 62 ml = 4 Tablespoons
1 Pinch = 1/8 Teaspoon