Gift Cards
Please Note: All sales are final. Gift cards cannot be returned or exchanged for cash.
View our complete FAQs
.
Ralph Brennan Restaurant Group
Gift Cards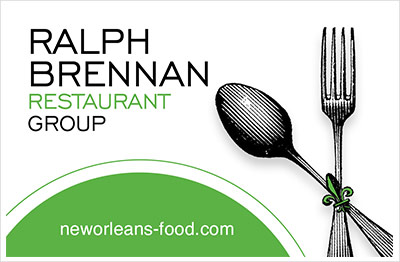 Valid at Red Fish Grill, Ralph Brennan's Jazz Kitchen, Ralph's on the Park, café NOMA, Napoleon House, and Brennan's.
Brennan's
Gift Cards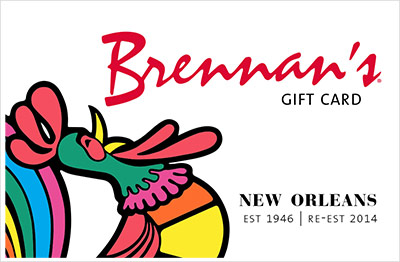 Valid at Brennan's and all Ralph Brennan
Restaurant Group restaurants

HOLIDAY SHIPPING INFORMATION
The last day to ORDER Classic Gift Cards with guaranteed delivery by Christmas:
Via USPS mail:
Thursday, December 14th at 5 pm CST (no additional fees to process – Mailed out by Saturday, December 16th)
Via Fedex 2-Day:
Wednesday, December 20th at 2 pm CST
Any orders received after Friday, December 22rd, will not be mailed out via USPS until Tuesday, December 26th.
E-Gift Cards are a great last-minute gift idea and emailed immediately!
HOW TO ORDER
Select Ralph Brennan Restaurant Group Gift Cards or Brennan's Gift Cards. (Both are valid at all 6 Ralph Brennan restaurants.)
Select E-Gift card (sent by email right away) or a Classic Gift card (sent through the US mail).
After you choose a card, simply fill out the form with your billing and shipping information.
If you choose a classic card, your order will be processed within 1-3 business days.
E-Gift cards will be emailed immediately after purchasing your order.
Fed-Ex (2) Day Shipping is available for an additional $25 at checkout.
Please call 504.539.5522 during business hours: Monday - Friday, 9 am - 5 pm

For Bulk Orders Over 10 Cards
For Phone Ordering
For Overnight Shipping Options
FREQUENTLY ASKED QUESTIONS