Crabmeat Ravigote Napoleon
Napoleon
A three layered salad including: a bottom layer of couscous and salsa verde, layered with jumbo lump crabmeat and topped with diced tomatoes, cucumber and dressing.

Ingredients
2 ounces Israeli couscous, cooked

1/4 ear of corn, roasted and shaved
2 tablespoons salsa verde
2 ounces jumbo lump crabmeat, picked over for shells
1 ounce ravigote sauce
1 tablespoon creole tomato, diced small
1 tablespoon cucumber, diced small
1 teaspoon basic salad dressing
salt and pepper to taste
chives, chopped and 4" long
Instructions
Israeli couscous should be cooked in salted water, and will double in volume when cooked. Mix together the couscous, corn kernals, and 1/2 of the slasa verde. In a seperate bowl mix the crabmeat and ravigote with salt and pepper, careful not to break up the lumps of crab. In a third bowl mix cucumbers, tomatoes, dressing, chives, salt and pepper. Use a ring mold on a small plate and spoon in the couscous mix. Then with a clean spoon, put in a layer of crab then top with the cucumber and tomato mixture. Garnish with salsa verde and chives.
Salsa Verde
Ingredients
1 bunch flat leaf parsley

1 bunch cilantro

2 ounces fresh tarragon

2 tablespoons capers

6 each anchovy fillet

1/2 teaspoon garlic, chopped

1 teaspoon dijon mustard

1/2 lemon, juice only

1 1/2 cup extra virgin olive oil
Instructions
Wash all herbs and cut off thick parts of stems. Add all ingredients, except for the oil to the blender. Puree on low speed. You may have to stop the blender and mix by hand. Restart the blender and drizzle in the oil. Do not run the blender for long, or the friction of the blade will cook the herbs.
Ravigote Sauce
Ingredients
1 1/4 cups mayonnaise

1 tablespoon chopped parsley

3/4 teaspoon dried tarragon

1/4 tablespoon Dijon mustard

3/4 tablespoon prepared horseradish

1 whole hardboiled egg, finely chopped

3/4 teaspoon hot sauce

pinch fresh ground black pepper

1/4 teaspoon dry mustard, mixed with the juice of 1 lemon

1/8 cup capers, drained

1/2 cup red bell pepper, diced very small (brunoise)

1/4 cup green bell pepper, diced very small (brunoise)
Instructions
Combine all ingredients together. Allow the ravigote to set for at least 1 hour before adjusting seasoning.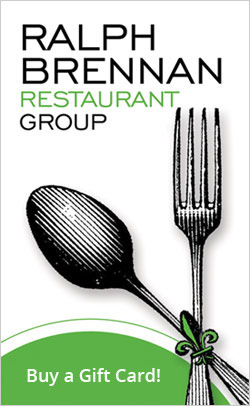 Purchase Giftcards
Cooking Measurements
1 cup = 250 ml = 16 Tablespoons
1/2 cup = 125 ml = 8 Tablespoons
1/3 cup = 83 ml = 5.3 Tablespoons
1/4 cup = 62 ml = 4 Tablespoons
1 Pinch = 1/8 Teaspoon